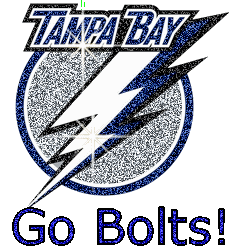 As I have been told by countless coaches throughout my lacrosse and team sports career, you have to treat every game and every team the same. Fall asleep on a lesser club, and you'll likely be walking off the field the loser.
That's the worry with this weekend's Florida road trip. While the Panthers are looking more and more like a playoff contender, and possible first round opponent, the Lightning are likely dusting off the golf clubs, preparing for a summer of training and par fours.
The thing is, the Lightning aren't as bad as their record suggests. The Bolts lead the NHL in overtime losses with 11, 6 of them shootouts, and currently have 49 points on the season. Had those overtime and shootout losses been wins, the Bolts would have 60 points, only two points out of the playoffs.
For the Lightning, two points won't help much other than putting them higher in the 2009 NHL Draft, but for the Caps it could be the difference between second place or third come April.
Washington Capitals (34-16-5, third in EC, last game 5-4 SO Loss to NYR)
vs.
Tampa Bay Lightning (19-25-11, 12th in EC, last game 6-4 win over Toronto)
Key Players:
WSH: Mike Green
Hey, we rode this horse last time, why not again! He's on the verge of breaking an NHL record for consecutive games with goals scored by a defenseman. Oh did we mention that he has more goals this season than 99% of the players on the Lightning?
Green 21, St. Louis 20, everyone else, sub 20.
My only question is, if Greenie wins the Norris, will we chant NORRIS, NORRIS, NORRIS for him ala Ovie's M.V.P!?
TBL: Vincent Lecavalier
He's the subject of various trade rumors and currently leading the Lightning with 25 goals. He had a goal and an assist in the Bolts 6-4 win over the Leafs and in 54 games against the Caps, he has 26 goals.
The last meeting...
LET'S GO CAPS!